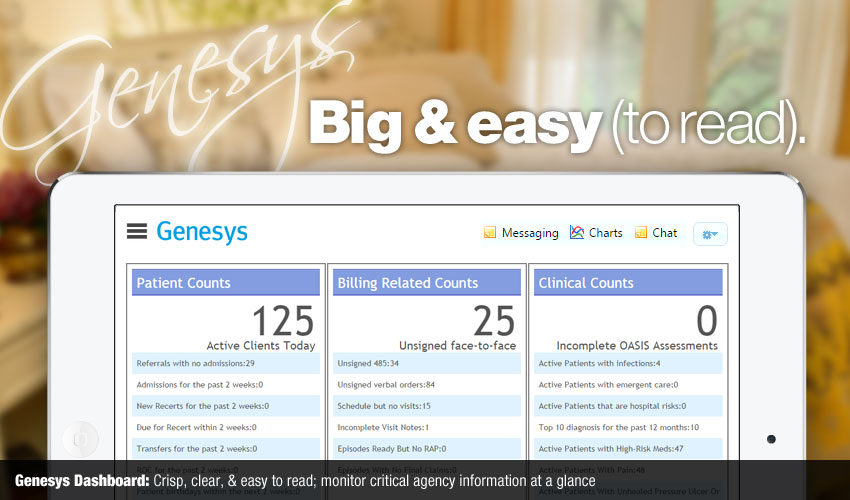 Genesys is more than just a pretty face. When your job requires you to stare at computer monitors, tablet screens, and phone screens for hours at a time, your software needs to be easy on the eyes. That's why Genesys allows you to zoom in or zoom out, to make text as legible as you need, at a size that's perfect for you.
When you start each day at a million miles per hour, you need a system that can keep pace with you, without breaking a sweat. That's why our software designers and programmers developed a faster and more efficient way for you to work: for example, when you choose a patient from the Patient List window, Genesys automatically pre-loads all the patient's information you'd need, making navigation from one screen to the next virtually instantaneous.
---
Electronic Visit Verification • ERN • Drug Database • Clinical Pathways • OASIS Analyzer • ICD Code Reference • Broadcast Messaging • Geolocation • and more!
Dive into the extensive database of OASIS answers
with lightning-fast speed

Helps you choose the most accurate & intelligent responses to OASIS questions

When your assessment has cleared, then you're set to bill

Consistent & measurable steps help your staff to work as one focused, cohesive team

Eliminates the "one-treatment-cures-all" approach to patient care that can occur

Custom tailor care maps for
each patient's specific needs
---
| | | |
| --- | --- | --- |
| | | |
| | | |
| | | |
---
We're so sure you'll be pleased with Genesys that we're offering a 30-DAY MONEY-BACK GUARANTEE. If you're not happy with Genesys in the first 30 days after signing up, simply send us a note in writing, and we'll gladly refund your first payment. You have absolutely nothing to lose and one very powerful software system to gain. GET GENESYS TODAY >